As a locally owned and operated small business, the Animal Hospital of Orleans knows the importance of community involvement and giving back. We support local businesses, participate in community building events, and donate to local and national charities. Our involvement with charities and community outreach has also been a lot of fun!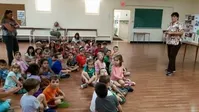 Dog Bite Prevention Presentation
Our Veterinary Practice Manager, Renee Lincoln, CVT, goes to local schools and speaks about dog bite prevention. If you would like to schedule a presentation at your school, free of charge, call the Animal Hospital of Orleans for more information.

Truro Police K-9 Association
Ella is one of the Truro Police Department's working dogs that the Animal Hospital of Orleans sponsors.
From the Truro Police K9 Association:"The Truro Police K9 Association would like to thank Dr. Bohon and her entire staff at the Animal Hospital of Orleans for donating their services to the care of Ella. Dr. Bohon has offered to cover the cost and care for Ella throughout her working career and will continue to donate care after her retirement. It is a tremendous relief to us all knowing Ella will receive exceptional care to keep her healthy and strong. Because of your care Ella will be able to return your generosity by keeping our communities safer from narcotics and locate love ones who may become lost, go missing, or wander. Thank you again Dr. Bohon and all the staff at the Animal Hospital of Orleans."
Homeless Prevention Council of Cape Cod's Adopt-A-Family Program

Every year we adopt a family through the Homeless Prevention Council. This usually involves getting some clothes and whatever toys or other items the child wants. You can help bring joy and surprise to a child or family in need every holiday season by joining the Homeless Prevention Council in their Adopt-A-Family program.

For more information about the program, contact Maureen Linehan, Adopt-A-Family Coordinator, at 508-255-9667 x 13 or email maureen@hpccapecod.org

During the month of February all proceeds we collect for Spa Sundays go to benefit the American Red Cross, Children's Hospital, and other charitable organizations.

Animal Rescue League of Boston - Brewster Branch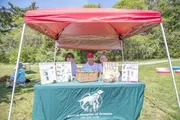 Several of our team members volunteer with the Animal Rescue League. The Animal Hospital of Orleans also sponsors several events including Paws in the Park and Too Hot for Spot. We also cover the adoption fee of some of the longer term rescues to get them into their forever homes. If you are looking to adopt a pet, the Animal Rescue League is a great place to go through!
CHARITY EVENTS

Our Hospital was well represented in the 25th anniversary Jimmy Fund Marathon Walk. Captain Karen Bohon & Dr. Larry Family were part of the hospital's Team Santana, who walked the 26.2 mile Boston Marathon course to raise money to combat cancer. The money raised by Team Santana supports cancer research at the Dana Farber Cancer Institute. Dr. Family is already encouraging us to get ready for this year's walk!


Our receptionist, Kristin Provost, took part in the Warrior Dash – a run of more than 3 miles over a course filled with obstacles. We are proud that Kristin was able to conquer the course, but we are even more proud that Kristin signed up as a "St Jude Warrior" raising money for St Jude's Children's Hospital.

Dr. Bohon is a member of Latham Center's Lifelong Pet Care Community Advisory Board. The goal of the board is to create a center which will provide life-long care for pets whose owners have passed away. The Latham Center is a qualified non-profit organization that has been serving our community since 1970. Follow the link for more details on this innovative program: Latham Centers Lifelong Pet Care


Dr. Bohon, her husband Chip, office manager Renee Lincoln, and kennel manager, Jen Plusch had a good time at the Animal Rescue League's Paws on Ice skating benefit. For some of us, it was our first time on skates in years. The Olympics didn't come calling, but we think it went pretty well – and the proceeds from the event went to a very good cause.


Dr. Bohon took part in the inaugural running of the "Santa Stampede", sponsored by the Orleans Chamber of Commerce. The stampede is a 5k run with a twist – runners are encouraged to wear holiday costumes while running. Dr. Bohon joined in the sprit of the event and ran the 5k in costume.
(We think she makes a pretty good elf!)
A few other notables:
MSCPA's Furry Affair fundraiser
Orleans Christmas Decorating Contest
Carnival of the Dogs benefiting the Provincetown Dog Park
Agway's Top Dog Contest and Pool Party
Eldredge Farm Foundation